Having a bathroom that looks stylish and modern can be challenging, but with the right ideas, you can easily achieve it. There are many colours to choose from, but one of the popular choices is the combination of blue and grey. Blue and grey bathrooms create a timeless yet stylish look that complements both traditional and contemporary interiors. Whether you're looking for subtle shades or bold hues, there are plenty of blue and grey bathroom ideas to inspire your next design project.
Put metallics with blue and grey for a refined look
When designing a bathroom, metallic accessories can be used to elevate the space. Metallic light fixtures, mirrors, or even faucets in glossy chrome or brushed nickel will add visual interest and lend a modern edge. When selecting these items, opt for pieces with blue and grey undertones that will compliment each other without overpowering the overall look. To bring extra texture into the mix consider adding lightly hued marbles or granite countertops in shades of blue-grey.
Incorporate a whimsical mood with blue wallpaper and grey panelling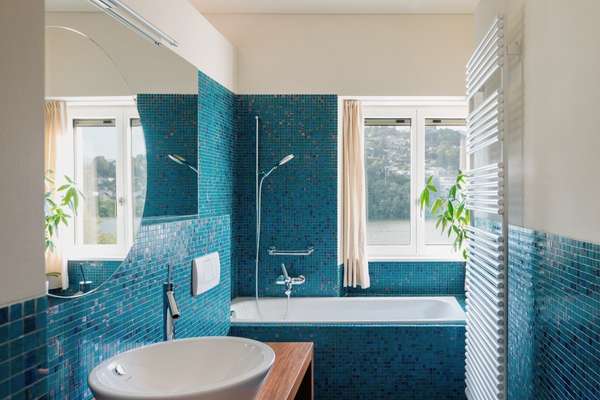 Bring a sense of whimsy and bliss to your bathroom with blue wallpaper and grey panelling. This combination of blues, greys and whites will bring out the beauty in any space. Start by selecting a beautiful shade of blue or grey wallpaper to create the perfect backdrop that will breathe life into your lavatory. To add an extra touch of warmth, incorporate grey panelling around the walls and onto the ceiling for an interesting look.
The combination of this colour palette helps to create a tranquil atmosphere that you can relax in after a long day at work. For example, if you're looking for something more vibrant, try pairing navy blue wallpaper with lighter shades of grey panels as accents to help draw attention to certain areas within your bathroom.
Add a focal point with a navy vanity unit
When it comes to making a statement in your bathroom, consider the navy vanity unit. This luxurious addition is sure to be a focal point of any bathroom and will instantly elevate the style of the space. The deep, rich navy colour provides a sophisticated look that is timeless and elegant.
The best part about a navy vanity unit is that it can be customised to fit any size or style of bathroom. From luxurious marble countertops to sleek hardware for storage, you can easily find the perfect piece for your space. Not only are these units functional but they look stunning too! You'll have no problem finding one that complements your existing decor while still making an impressive statement.
Use an unexpected pop of blue
Spice up your bathroom with an unexpected pop of blue! Adding a bright, bold blue to the walls or fixtures of your lavatory can add visual interest and make it feel bigger and brighter. Blue is a versatile colour that works well in both large and small spaces alike. It's also a great way to introduce some dimension into the room without taking away from other design elements.
To use blue in an unexpected way, try combining different shades. This can create depth and interest without feeling too overwhelming. Choose lighter blues for the walls or larger features such as tiles and darker shades for accents like towels or rugs. If you're feeling adventurous, you could also consider using vibrant blues for furniture pieces like cabinets or vanities. With so many options available, there's no limit to how creative you can be when incorporating blue into your bathroom design!
Wall-mounted mirror above double sink vanity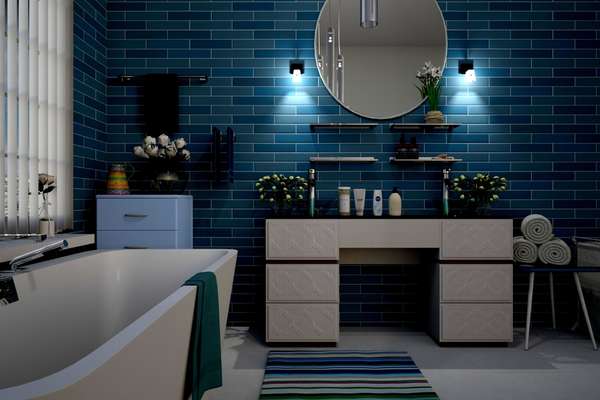 A double sink vanity can be a luxurious addition to any bathroom. Nothing makes the room feel more finished and polished than two sinks side by side. To take that look to the next level, consider adding a wall-mounted mirror above the vanity for an extra touch of style and convenience.
This type of mirror doesn't just enhance the aesthetics of your lavatory; it also provides practicality as well. It's easy to see why – who wouldn't want a full reflection from head-to-toe? You can also use the extra space around it to store items like towels, facial products, and more. Furthermore, if you have high ceilings in your bathroom, having a wall-mounted mirror creates an illusion that makes your space feel taller than it actually is.
Blue and dark grey bathroom decor with shelves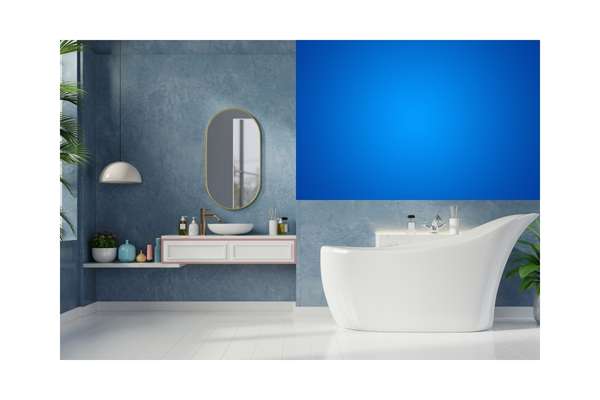 A bathroom isn't just a place to bathe – it's also an opportunity to make a style statement. A blue and dark grey colour palette can create an elegant, modern look in your lavatory without the need for flashy designs or bold colours. With the right decor, shelves can be used to add additional storage space that has aesthetic appeal as well.
Blue vanity with brass hardware
A blue vanity with brass hardware is the perfect addition to your bathroom. This stylish piece of furniture can add a touch of sophistication and elegance to any lavatory, while still being easy to maintain. The blue colour pairs perfectly with the warm gold tones of the brass hardware, making it an attractive choice for any décor.
The vanity itself is well-built and sturdy thanks to its solid wood construction, and will last you many years with proper care. The spacious drawers are great for storing all your toiletries, towels and other items you need close at hand in the bathroom. The deep basin sink provides plenty of room for washing up or taking a quick rinse after a bath or shower. Furthermore, because it is made from durable materials such as ceramic and metal, this piece will be resistant against wear and tear over time.
A Blue and grey bathroom with gold accents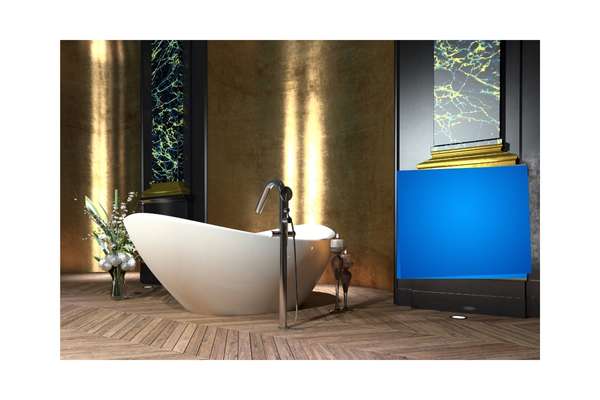 A Blue and grey bathroom with gold accents creates a stunning space. This classic combination of colours is timeless, yet modern. It can be used to create a sense of luxury, as well as being a practical colour scheme for a lavatory. The use of gold accents gives the room an added touch of elegance which will make it stand out from other bathrooms that don't include this feature.
Gold fixtures such as taps, handles and light fittings bring warmth to the neutral palette and provide visual interest in the room. An ornate mirror framed in gold can also be used to add further dimension to the overall design aesthetic. A white and grey bathroom with gold accents is perfect for those looking to create an elegant yet functional living space that oozes luxury and sophistication.
Use natural accents for a farmhouse look
Adding character and charm to a bathroom can be done in a variety of ways. Incorporating natural accents into the design is one way to create a cosy farmhouse look. From rustic wood and metal pieces to fabrics such as burlap and linen, numerous elements can bring life to any bathroom space.
Whether you're looking for a subtle touch or something more grand, these natural accents will help bring your farmhouse vision to life. Rustic wood shelves mounted on the wall are an ideal choice for displaying décor items like photos, candles, and plants. Adding metal fixtures like door knobs or towel holders also adds warmth and texture that complements this look nicely.
Open the shower with blue tiles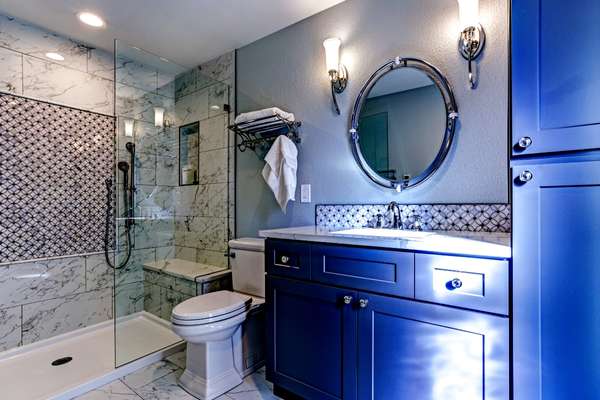 When it comes to giving your bathroom an upgrade, blue tiles are a great way to make a statement. This colour is sure to bring life and vibrancy into the room, transforming it from dull and uninspiring to stylish and modern. Not only will blue tiles brighten up any shower space, but they can also be used in various ways throughout the bathroom for a cohesive look.
Whether you're looking for something subtle or bold, there's no denying that adding blue tiling to your shower will give it an extra boost of personality. If you're feeling adventurous then go all-out with statement pieces such as patterned floor tiles or vibrant wall cladding; if you prefer something more muted then opt for plain blues or softer shades like turquoise.
Enjoy the light and shade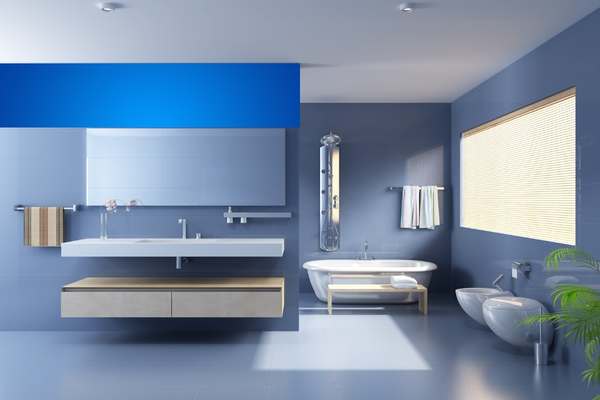 If you're looking to brighten and spruce up your bathroom, why not consider incorporating light and shade? By using different lights and materials, you can easily create a beautiful space that looks stylish and inviting.
A great way to start is by adding natural light. If possible, install a window in your lavatory so that the sunshine can flow through, creating an uplifting atmosphere. Natural lighting is also more energy-efficient than electric lighting – saving you money on bills as well as giving your bathroom an airy feel. You could also opt for lighter paint colours or tiles which will reflect light in order to make the room appear bigger.
Wallpaper hanging is a statement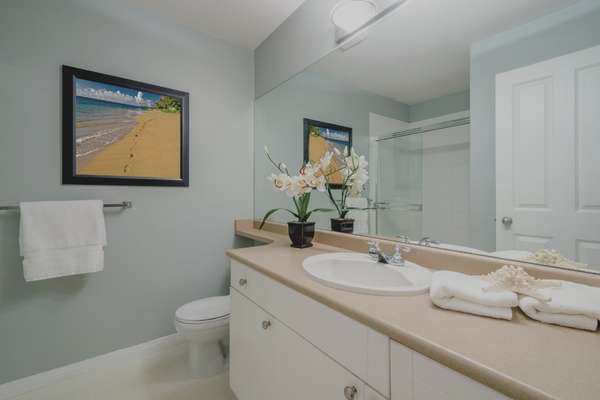 Wallpaper hanging is a statement. Bathroom walls are often the least considered when decorating, but they can be an area of personal expression and style. Wallpaper provides an opportunity to create a unique space that reflects one's personality and design goals. Whether you choose a bright and bold pattern or something more subtle, wallpaper can give your lavatory the perfect finishing touch.
When selecting wallpaper for your bathroom, consider factors such as light levels, humidity and size of the room. A well-designed wallpaper will provide both visual appeal and practicality by providing insulation against moisture or heat while also being easy to clean. While there are many options available on the market today, it's important to find the right balance of form and function that fits your individual needs. With careful consideration, anyone can achieve their desired aesthetic in their bathroom with proper wallpaper selection.
Use a statement roll top
These luxurious baths come in a range of sizes and designs, so you're sure to find one that perfectly complements your existing bathroom decor. Whether you opt for traditional freestanding options or more contemporary built-in models, there's something to suit everyone's needs and tastes. The ergonomic design of statement roll tops helps provide excellent back support so you can enjoy a truly indulgent bathing experience.
Small bathroom windows with blue walls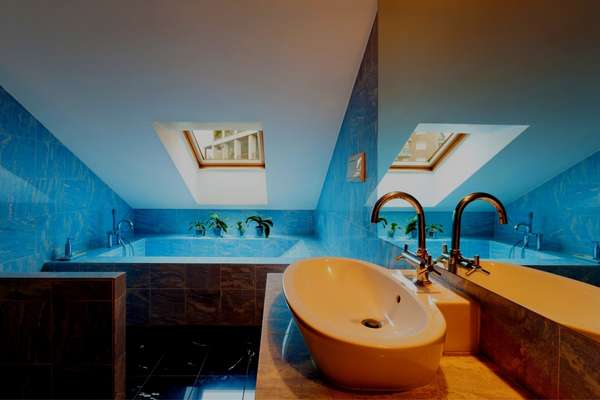 The colour blue has a calming effect and works well when used on all four walls of a small bathroom, creating an airy atmosphere that won't overwhelm the room's size. Complimenting this style with small windows allows natural light to flood into the lavatory without taking up too much space or creating a cluttered look. Plus, you can choose from various shades of blue such as navy or baby blue for added texture and dimension on your walls. To finish off this look opt for white curtains or blinds that will allow you to keep privacy without blocking out light from entering your small bathroom windows.
Rustic blue-tinted doors and bathroom decorations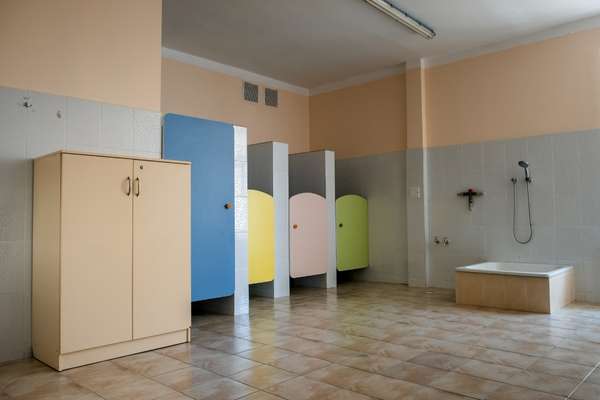 The bathroom is one of the most important rooms in any home. It's a place to prepare for the day, relax after a long day, and take care of personal needs. To make it feel special and unique, many homeowners choose to decorate with rustic-style blue-tinted doors that create an inviting atmosphere.
These doors come in a variety of styles and materials, allowing for a wide range of customization options. They can be made from wood or metal and feature intricate designs or smooth surfaces that help bring out their natural beauty. For those who want something even more eye-catching, there are also decorative hardware pieces available such as handles or knobs that add character to the door.
Use plenty of storage with a navy blue vanity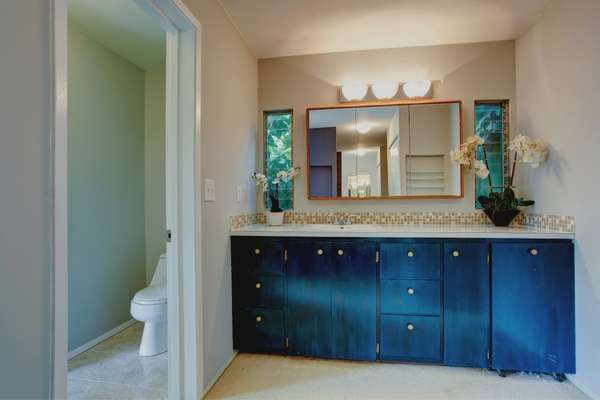 A navy blue vanity is a great way to spruce up any bathroom. Not only does it provide additional storage, but it also adds a classic and timeless look to the room. With plenty of storage options, such as drawers, shelves and cabinets, you can easily store all your lavatory necessities for easy access.
Navy blue vanities come in all shapes and sizes so you can find one that perfectly fits the size of your bathroom. Whether you have a small powder room or a large master suite, there's sure to be an option that fits your needs. You'll also be able to choose from various colours and materials to match the decor of the rest of your home.
A powder-blue and light grey bathroom
Add a modern twist to your bathroom with a powder-blue and light grey colour scheme. This classic combination of colours creates an inviting atmosphere that will give your bathroom an element of comfort and sophistication. With this two-tone design, you can easily combine textures and materials to create a unique look for your special space.
From floor tiles to wall paint, there are many ways to incorporate these hues into your lavatory. Consider using pale blue wainscoting or coastal-inspired wallpaper as the main background feature in the room. Then choose lighter shades of grey for lavatory fixtures such as vanities, countertops, and bathtubs. The combination of these timeless tones will provide an elegant yet calming atmosphere in the room while also creating a visually appealing design.
A white bathroom adorned with blue and grey art
Start by incorporating a few art pieces with soft blue and grey hues that will bring character and charm to your white bathroom. A light sky blue accent wall or bold piece of art hung above the sink can add just enough contrast while still keeping it clean and simple. Complete the look with a few touches like patterned towels, a stylish bath mat, and small plants for an extra pop of colour. Grey cabinets, countertops or shelving units provide additional storage while blending seamlessly with the overall theme.
A shower curtain and bath mat fit
A bathroom is not complete without the perfect combination of a shower curtain and bath mat. Although many people overlook these two pieces of décor, they help to enhance the overall look and feel of your lavatory. The right combination should match in both style and colour, creating a neat and polished space for you to enjoy.
When shopping for a shower curtain and bath mat, it's important to consider their shape, size, fabric quality, and design elements like pattern or texture. To ensure they fit together properly in your bathroom space, take measurements before you buy them so that you know exactly what size will work best with your layout. It's also helpful to choose colours that compliment each other — this gives the room a cohesive look while still allowing each piece to stand out on its own.
Use some timeless luxury with a wool rug
Wool rugs are a timeless addition to any bathroom. Their luxurious feel adds an extra layer of warmth and comfort to the space. Not only do they provide comfort underfoot, but their chic design and range of colours make them the perfect visual accessory for a well-appointed bathroom.
When selecting a wool rug, it's important to consider size, colour, and style. These versatile rugs can come in bold patterns or subtle neutrals that coordinate with existing décor. Wool is also known for its durability and easy maintenance—a quick vacuum or spot cleaning can keep your rug looking great for years to come. With this combination of style and practicality, you can create a beautiful atmosphere that will last long into the future.
Conclusion
Blue and grey bathroom ideas can be a great way to add a modern and updated feel to your home. It is important to consider the size of your space, the colour scale, and how you want it to function when designing or renovating your bathroom. Additionally, adding texture and other accent colours can be crucial in making the room appear more complete. By considering these factors you can make sure that your blue and grey bathroom is stylish, functional, and beautiful.