Bathrooms are an essential part of any home and serve a multitude of functions. From brushing teeth to taking showers, bathrooms need to be comfortable and aesthetically pleasing. One way to make your bathroom look inviting is by incorporating the right kind of rug. Finding the perfect bathroom rug may seem like a challenge, but with the right inspiration you can create a stylish and functional space.
Incorporate elegance with a botanical design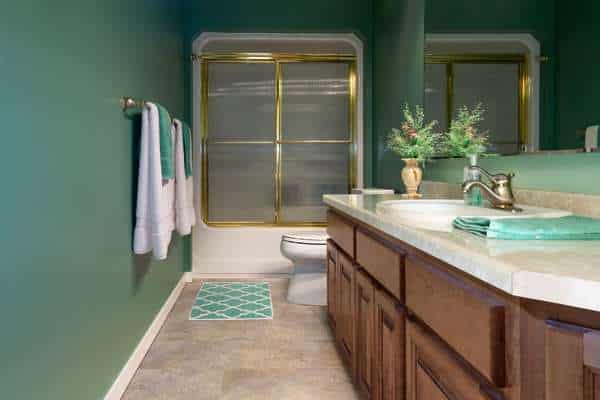 When choosing a botanical rug for your bathroom, consider materials that are both stylish and easy to clean. Natural fibres like jute or cotton offer a classic look that will stand the test of time. While synthetic materials like polypropylene are more durable and come in various prints and textures. If you're looking for something with more colour and vibrancy. Choose rugs with floral or leaf patterned designs in shades of green, blue, or pink that will enhance the overall atmosphere.
Go for an eco-friendly design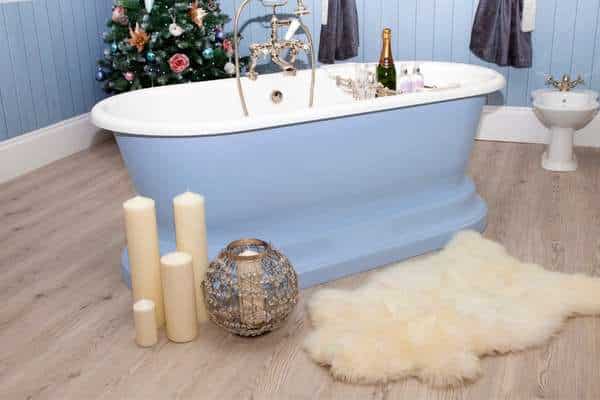 Bathroom rugs are essential for providing comfort and warmth on cold mornings but they can also be used to add style and personality to the room. Eco-friendly options are now available that will help you make sure that you're making environmentally conscious decisions in your home.
The great thing about eco-friendly bathroom rugs is they come in all shapes, sizes, and colours so you don't have to compromise on style. When choosing one that's environmentally friendly.
Make it clean and classic aesthetic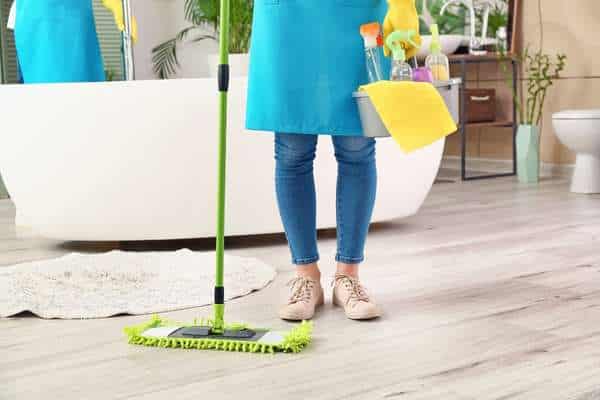 When choosing the perfect bathroom rug, consider the overall style of your room. If you want to bring in a hint of modernity, try something sleek and minimalistic like a flat weave or wool blend option. For those that prefer more traditional looks. Go for a plush tufted rug made from cotton or wool – it will add warmth and comfort to any room. When shopping for rugs, look for materials that are soft yet durable enough for everyday use. This way your purchase will last well into the future.
Pick out a well-loved vintage rug to hug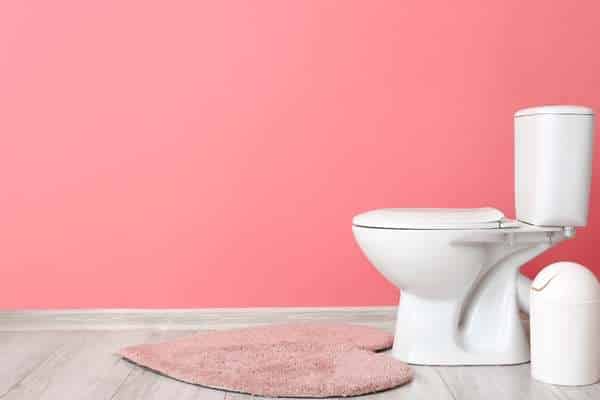 Bathrooms are an important part of our homes and should be designed to reflect a classic and clean aesthetic. A bathroom with a timeless style will make your home look elegant, inviting, and timeless. To create this classic look, start by choosing neutral colours for walls, fixtures, and flooring. Opt for lighter shades such as white or ivory to keep the space looking open and airy. Adding natural elements such as wood accents or live plants can also help bring some warmth into the room without taking away from its minimalist vibe.
Go to the guest bathroom
Moving into someone's home can be an intimidating experience, especially when it comes to using the guest bathroom. The homeowner wants you to feel comfortable and relaxed. Which is why they have reserved a special space just for you.
The guest bathroom is usually located near the entrance of the house so as not to inconvenience any house guests. That way, if someone needs to use it quickly and without too much fuss, they'll know exactly where to go. When visiting someone's home, take some time out of your day to appreciate. The effort they put into making their guest bathroom unique and inviting. From decorations that add a personal touch of homeliness. Such as towels or flowers in vases – it's clear to put thought into creating an environment that makes visitors feel welcome.
Select a rug to heat the modern bathroom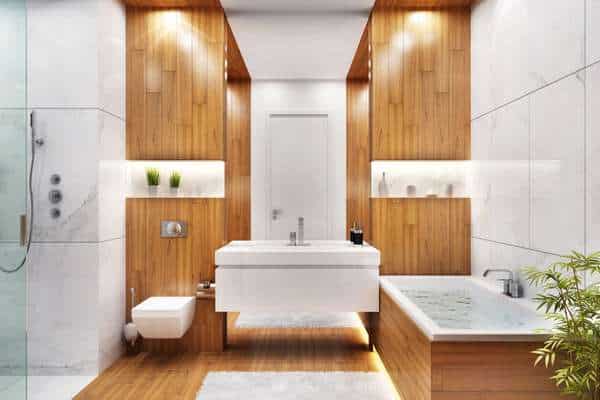 When it comes to decorating your modern bathroom, selecting a rug can bring the entire look together. There is an array of options when it comes to finding rugs that will add a touch of warmth and style to the bathroom. The best way to choose a rug for your space is to consider its size, material and colour.
Size should be determined by the shape and size of your bathroom. Small bathrooms may benefit from smaller rugs or strategically placed runners, while larger bathrooms could accommodate larger rugs with more intricate designs. When selecting materials for your rug, think about comfort; shaggy rugs are perfect for bare feet on cold marble floors! You'll also want to find something that dries quickly; cotton and polyester are great options. As they are both absorbent and fast-drying.
Pick a synthetic rug for a wetroom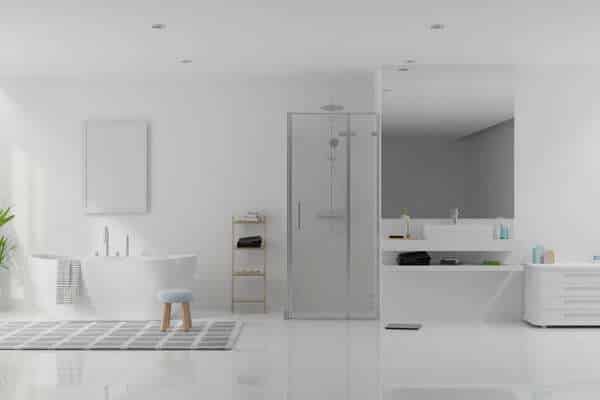 Synthetic rugs offer great advantages when it comes to wetrooms. They are water-resistant and easy to clean – two must-have qualities for a bathroom space. With so many colors and styles available on the market today. You'll find plenty of options that fit with your wetroom decor. Plus, synthetics rugs are often more affordable than other materials, making them an attractive option for any budget conscious homeowner. 
When shopping for a synthetic rug, make sure it meets all safety standards and is designed specifically for use in damp environments such as bathrooms or shower rooms.
Persian for a refined look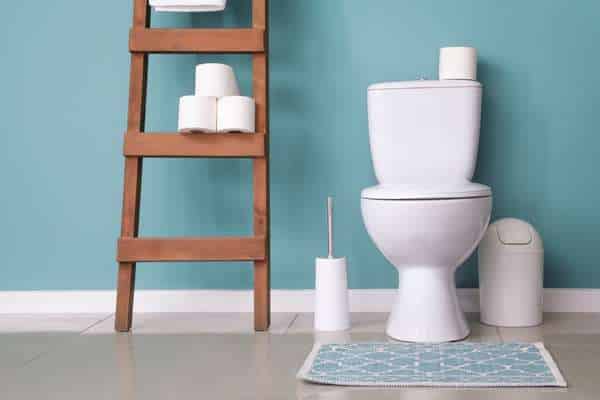 The beauty of Persian design is in its versatility; from simple accents like throw pillows or wall hangings to more extravagant features like mosaic tiling or intricately carved furniture. With such an array of options available, it's easy to create a look that's as unique as you are. If you prefer a more subtle approach, adding some Persian-inspired artwork with rich colours can instantly add character and elegance to any space.
For something more daring, try incorporating traditional patterned rugs or other textiles for a truly one-of-a-kind experience.
Opt for a simple bath mat with a monochrome design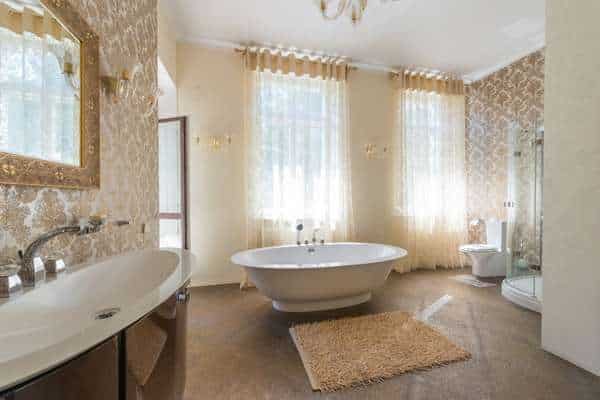 Bathroom is one of the most important rooms in a house. It can be used for relaxation, hygiene and style. To introduce a sense of elegance and modern appeal to the room, start with a simple bath mat with a monochromatic design.
By adding an interesting pattern or texture to a monochromatic design mix, it can create a calming atmosphere in the bathroom that will make it feel like an oasis of peace in your home. The colour scheme is also perfect for creating contrast. Which can make any space appear brighter and larger than it actually is.
Select an antique rug for a vintage feel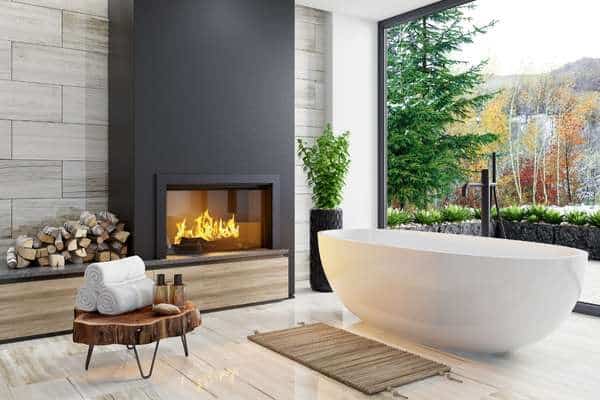 An antique rug can add an unexpected and stylish touch to any bathroom design. Whether looking for a statement piece or something more subtle. There are countless antique rug options available that will instantly elevate a bathroom from everyday to vintage.
When selecting an antique rug for the bathroom, consider the size and style of the room, as well as your desired colour palette. Carefully evaluate the condition of each piece and make sure it is appropriate for a high-traffic area like the bathroom. An excellent quality antique rug with good craftsmanship will last for many years and continue adding character to any space. Be sure to select one with a low pile height that is easy to clean and maintain in order to ensure longevity.
Select a stylish bath mat
When it comes to your bathroom, choosing the right bath mat is an important part of making your space look and feel stylish. A bath mat can make a big impact on the overall ambiance of your bathroom, so don't underestimate its importance! The great news is that there are plenty of options out there when it comes to selecting the perfect bath mat for your home.
From classic cotton designs to modern geometric shapes. You'll be able to find something that suits your unique style and decor. Consider factors such as colour, texture and size when choosing a bath mat – this will help you create a cohesive look in your bathroom. If you're looking for something extra special then think about adding some decorative elements such as monograms or patterns for an extra touch of sophistication. With these tips in mind, you'll be sure to find the perfect stylish bath mat for your home!
Add an ornate carpet to intricate tiles
The bathroom is an important room in the home, and it's one that should be decorated with style. Ornate carpets can add a layer of comfort, texture, and sophisticated detail to an already intricate tile design. Whether you choose a colourful oriental carpet or a classic Persian rug, introducing this timeless piece into your bathroom will create a breathtaking look that will make visitors jealous.
When adding a carpet to your bathroom floor, consider the amount of traffic in the space. Choose something durable enough to withstand wear and tear from constant movement over it. Synthetic fibres are ideal for this purpose as they can handle moisture without deteriorating quickly. Additionally, you'll want to opt for darker colours such as navy blue or black so that dirt won't show easily.
Keep it soft and subtle
A soft and subtle bathroom can be an oasis of relaxation in your home. Creating a tranquil atmosphere with muted tones and cosy textures will make it the perfect place to unwind after a long day. Soft and subtle décor is all about creating an inviting atmosphere that's soothing and comfortable.
Light colours are essential for this look, as they contribute to a sense of calmness. Try adding accents in shades like dusty pink or light grey, which can help create a warm ambiance. Soft materials like plush rugs or cosy towels are great additions too – they'll add texture to the room and make it even more inviting.
Consider your bathroom colour choices, corresponding to your mirror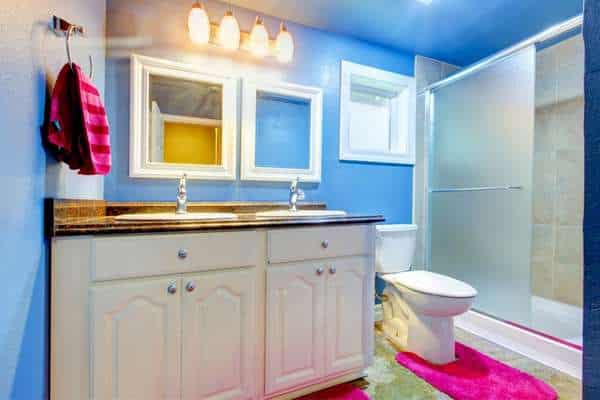 The key is to choose colours that complement each other rather than clash in order to achieve an aesthetically pleasing design. If you want a white vanity with light blue walls, then opt for a silver or chrome framed mirror. This will create a modern and minimalistic look that will be sure to turn heads. On the other hand, if you prefer darker tones such as navy or charcoal walls and furniture, then opt for darker mirrors with gold frames which will add contrast and depth into the space.
Take into consideration scale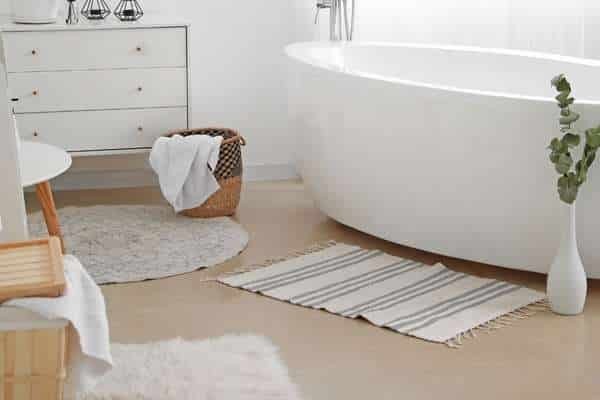 When remodelling a bathroom, it is important to take into consideration the scale of the room. Small bathrooms can be tricky to design as there are limited resources and options available. To make the most of a small bathroom, using appropriate scaled fixtures and designs will help create an illusion of space and give the sense that the room is larger than it actually is.
Taking into consideration how large or small items are in relation to one another can make all the difference when designing a bathroom. To maximise space, opt for slim-lined furniture such as vanities with minimal bulk and shallow countertops. Wall-mounted fixtures such as shelves, toilet paper holders, towel racks, and other storage solutions will also add more visual space to a smaller bathroom design.
Relax with a plain white carpet
A plain white carpet can be the perfect way to relax in the bathroom. Not only does it provide a sense of serenity and comfort, but it also adds style and sophistication to any space. Best of all, white carpets are incredibly versatile and can fit into practically any design scheme.
When choosing a plain white carpet for your bathroom, consider how much texture you want for your space. A shaggy rug or an ultra-plush pile will create warmth and cosiness while a flat weave rug provides a modern yet timeless look
Find a safe environment by choosing a grey bathroom rug
Grey rugs are known for their neutral colour scheme. Which allows them to blend in with any decor style or colour palette. They also have the advantage of being easy to spot clean. So you can maintain their appearance without having to invest in frequent replacement carpets.
Not only are they attractive, but grey bathroom rugs also provide superior slip-resistance compared with other materials such as cotton or wool. This helps reduce the risk of slips and falls — especially on wet surfaces — making them ideal for families with young children and pets roaming around the house.
Use an attractive runner pattern to add interest
Adding interest to a bathroom space can be as simple as incorporating an attractive runner pattern. The right runner pattern can bring to life even the most dull and dated of bathrooms. It adds texture, colour, and a unique element that will turn heads with every glance.
When selecting a runner pattern for your bathroom, you want to find something that blends in well with its surroundings while still standing out enough to make an impactful statement. Consider colours and textures that complement the overall look of the room while adding just enough visual interest to give it character. To ensure maximum impact, select a bolder print with bright colours and interesting shapes or patterns. This will help your bathroom go from drab to fab in no time!
Brightly coloured rugs for a splash of colour
Bathrooms can often look dull and uninspiring, but with a brightly coloured rug you can bring a splash of colour to the room. Adding rugs to your bathroom can be an easy way to liven up the space without having to make huge changes.
Available in an array of colours that are sure to fit any style or colour scheme, brightly coloured rugs will add character and fun to the room. From bright pink patterns to bold yellow stripes, there is something for everyone! With so many different styles available, there is sure to be one that will suit your taste.
Matching towels and accessories can also help create a cohesive look in your bathroom while adding pops of colour throughout the whole space.
Get a cushy surface with a fluffy mat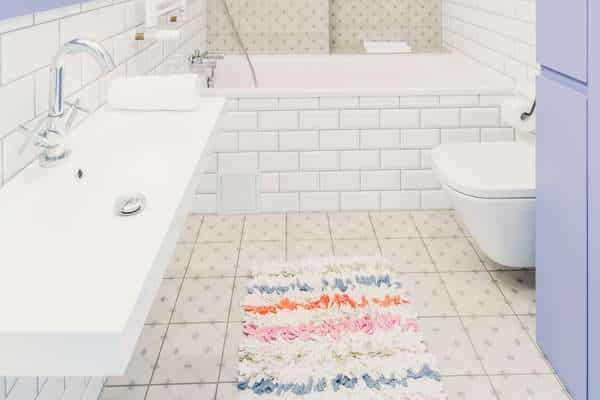 If you're looking for a way to add comfort and style to your bathroom, consider investing in a fluffy mat. Whether you just want something soft on your feet while stepping out of the shower or need more cushioning when shaving, these mats provide an inviting touch. Not only do they look great, but they also give you a luxurious feeling each time you use them.
These mats come in a variety of colours, textures and sizes – so finding one that fits the decor of your bathroom won't be difficult. With their extra-soft fibres and ultra-plush feel, these mats can really elevate the look and feel of any space. Plus, with their water absorbent material, it's easy to keep them clean – perfect for even the messiest bathrooms!
Display artworks on a wall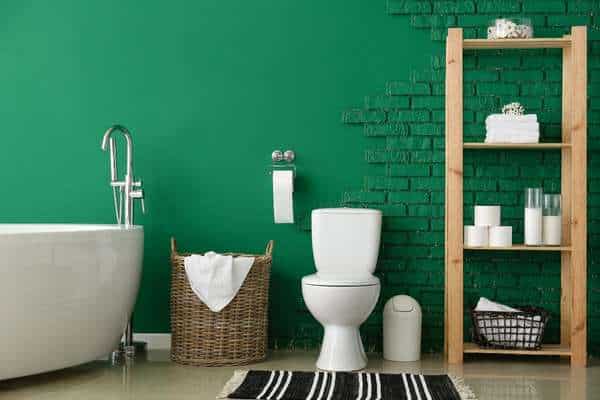 Decorating a bathroom with artworks is an easy and cost-efficient way to make the room more inviting. Whether you are seeking a beachy vibe, modern edge or something in between, there is an artwork that will fit your style perfectly. There are many ways to display wall art in the bathroom so let's explore some of them.
One popular choice for displaying art in the bathroom is to hang it on the walls. This creates the illusion of larger space and adds texture to the room. You can opt for one large piece that makes a statement or several smaller pieces combined together. Consider using different styles and sizes of frames to add interest while still creating cohesion in your overall look
Soothing patterns
When it comes to bathrooms, the right pattern can make all the difference in creating a soothing environment. Whether you're looking for something sleek and modern or something with a more traditional touch. The right pattern can help turn your bathroom into an oasis of relaxation. 
One of the most popular patterns for bathrooms is geometric designs. This style creates an eye-catching look that brings an element of sophistication to any space. Geometric prints are available in various sizes and shapes. Making them perfect for any bathroom size or layout. For those who want something softer and more romantic. Floral prints offer subtle yet beautiful vibes that bring warmth to any room.
Conclusion
Bathroom rug ideas are a great way to make your bathroom look more appealing and functional. With so many different options available, there is sure to be a rug that fits your unique style. Plus, with the right materials and sizes. You can make sure that it looks great and adds convenience to your bathroom. No matter what type of rug you choose, be sure to measure for the correct size. Before purchasing it in order to ensure a perfect fit.