With the right outdoor table setting, you can transform your patio, balcony, or backyard into a stunning and inviting gathering place. Whether you're entertaining friends or just enjoying some time in your own outdoor oasis, having a beautiful outdoor table is the perfect way to add style and elegance to your space. With so many different types of outsider tables available, it's important to find one that suits your needs and design preferences.
An outdoor table accessory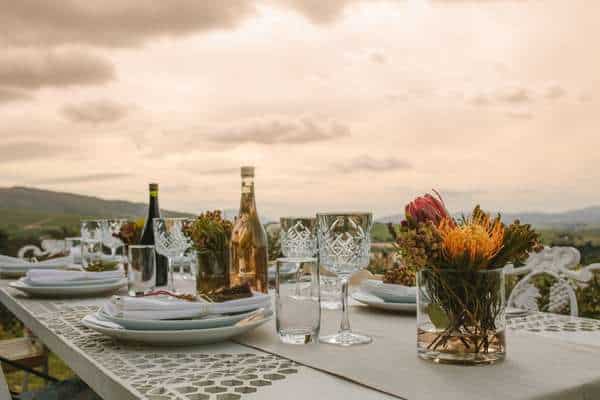 A perfect outdoor table setting is not complete without the perfect accessory. Whether it's a family gathering, a romantic dinner for two, or an outdoor get-together with friends, accessories can add that special something to your outside tablescape. From statement centrepieces to colourful place settings and charming decorations, there are lots of ways to dress up your outdoor table.
Brighten up your space with vibrant colours and interesting textures in the form of macrame wall hangings or potted plants on either side of the table; these will add life and character to your setting. For added impact, consider hanging a set of lanterns from a nearby tree branch that will create depth and drama as day turns into night. You could also bring out some unique serving pieces like wicker baskets or ceramic platters that can be filled with delicious food for all your guests.
Centrepiece for an outdoor table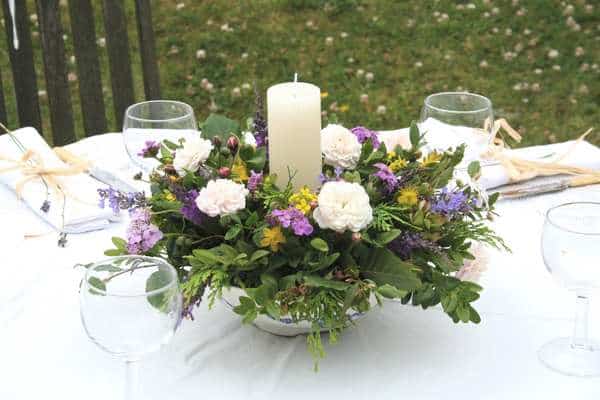 Outdoor tables can provide a great gathering spot for family and friends to gather, relax and enjoy each other's company. To make the setting even more inviting, an eye-catching centrepiece is just what you need. Whether you're hosting a casual backyard BBQ or a formal al fresco dinner party, there are many creative ways to dress up an outside table with an attention-grabbing centrepiece that will set the perfect tone.
A potted plant is one of the most popular ideas for decorating an outdoor table; it brings in just enough colour and greenery without taking away from the beautiful view of your garden. For added interest, place several small plants around your main centrepiece in different containers or hang them above the table using colourful ribbons or strings.
Light emitted by outdoor fixtures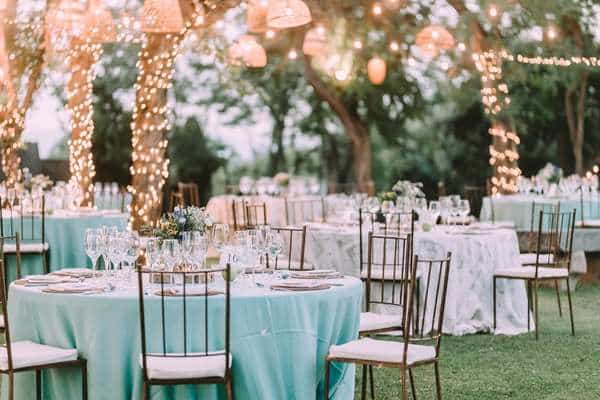 Outdoor table settings are the perfect way to enjoy a meal in the fresh air. Not only do they provide an inviting atmosphere for family, friends, and guests alike, but their beauty is further enhanced by specially designed outdoor fixtures that emit light. 
Whether you're looking to create a romantic or chic ambiance with your outside table, adding light can be the perfect way to make it special. The right type of lighting will bring out the best features of your table setting while enhancing its overall aesthetic appeal. From strings of lights in bright colours to delicate lanterns that exude soft illumination, there are plenty of options available when it comes to finding fixtures that will perfectly fit your decorating needs.
Add Outdoor furniture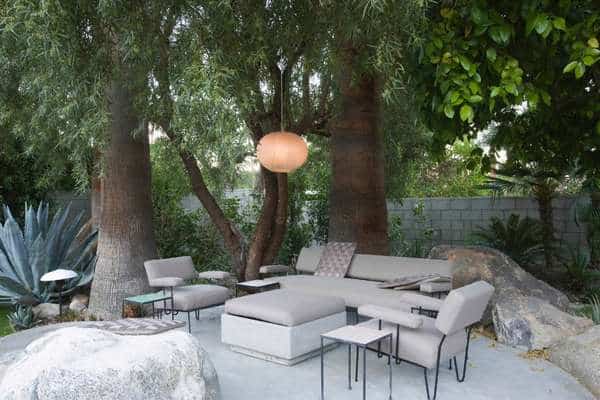 Adding outdoor furniture to your yard or patio can be a great way to enjoy the outdoors in style. Whether you're looking for a cosy booth or an inviting table setting, there are a variety of options available that will fit your space and style. You can have both comfort and convenience when it comes to selecting outdoor furniture, as well as create an inviting atmosphere for friends and family alike.
When choosing an outdoor table setting, consider your lifestyle needs. If you regularly entertain guests, look for durable materials such as aluminium, teak or cedar that will withstand the elements. Select chairs with comfortable cushions so that everyone has a place to sit back and relax. Finish off the look of the space with complementary accents like planters, decorative pillows or colourful umbrellas to provide shade from the sun's rays.
Combining Textures & Colors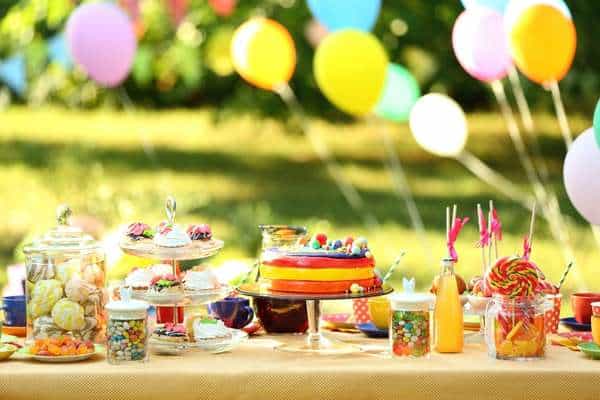 If you're looking for a unique and colourful outdoor table setting, consider combining textures and colours. Adding multiple elements to your table can create an interesting ambiance that guests will appreciate. It's all about mixing and matching different fabrics, materials, and table linens to give your setting a more dynamic feel.
Start by selecting a base colour for the overall look of the table. Then choose materials that have different textures such as cotton linens, wicker baskets, or bamboo mats. If you want to add some colour variation, find items with complementary hues that match the base colour. For example, if you have an earthy brown tablecloth as your base then select accents in shades of pink or green for contrast. Accessorise with smaller items like candles or flowers to complete the look of your outside table.
Serving food at an outdoor venue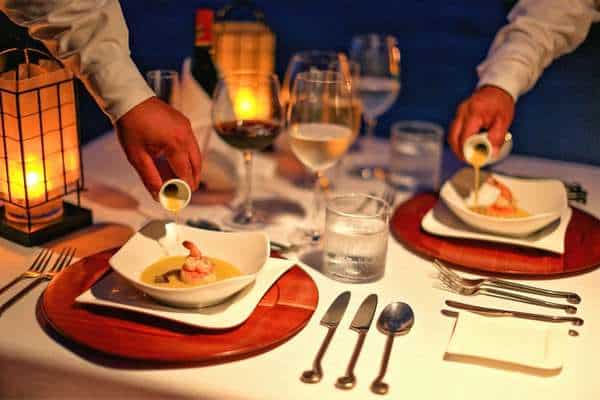 Hosting an outdoor event is a great way to enjoy the beauty of nature while also dining on delicious food. But when planning an outdoor event, it's important to consider the menu, setting and ambiance. One of the most important elements in creating a memorable outdoor occasion is the table setting – and it helps to think outside the box!
When it comes to serving food at an outdoor venue, there are several things to consider. To start, you'll need plates and utensils that can withstand any type of weather – paper plates or plastic cutlery may not be ideal for rain or windy conditions. You'll also want to choose decorations and centrepieces that won't blow away easily, like small potted plants or even fabric tablecloths with weights at each corner.
Use candles to increase the height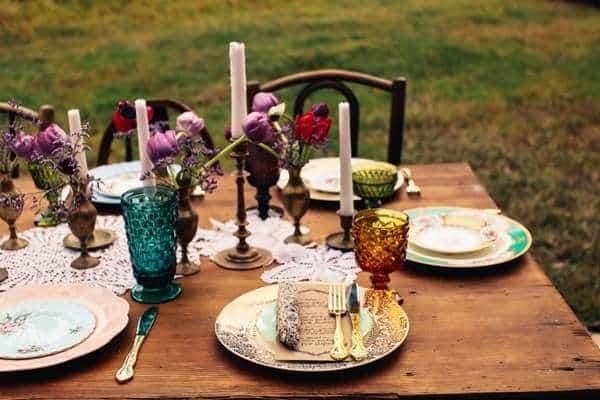 Creating an outdoor table setting is a great way to get outside and enjoy the fresh air while entertaining friends and family. For those looking to make their outdoor setup even more special, candles are a great way to increase the height of your table. Candles can provide just the right amount of light and ambiance for any occasion.
When creating an outside table with candles, it's important to consider both safety and style. The first step is to choose a flat surface that won't be affected by wind or rain; this could be either concrete or brick patio, or something like a deck or porch. Then select appropriate candleholders—candles should not touch the table directly—and candles of varying heights that fit the design of your tablescape.
Consider your light fixtures
When deciding on the perfect outdoor table setting, one of the most important elements to consider is your light fixtures. An attractive and well-lit patio can transform any ordinary dinner into an extraordinary dining experience. Whether you prefer a traditional or modern style, there are many lighting options available that will help you create the perfect atmosphere for entertaining friends and family.
For a classic and timeless look, consider hanging pendant lights above your outside table. These lights provide a soft, warm glow that will make dinner conversation more intimate and enjoyable. If you're looking for something with even more visual impact, wall sconces may be just what you need to set the mood – they can be used to highlight special features in your garden or accentuate existing architectural details. Another option is landscape lighting – this is an ideal choice if you want to illuminate walkways or other large areas.
Of plants and flowers Vases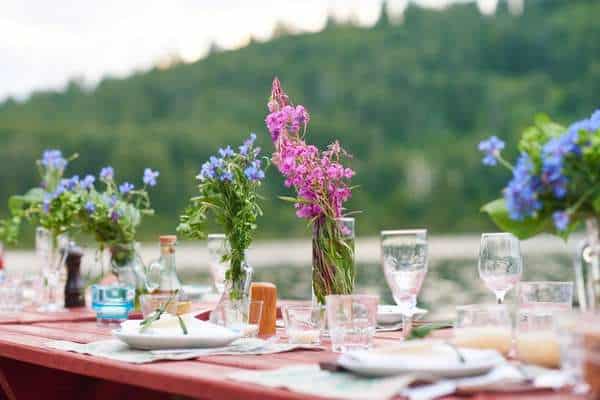 Creating an outdoor table setting is a great way to spruce up any outdoor space. Using plants and flowers in vases is an easy, unique way to make a statement with your table setting. With the right combination of plants, flowers, and vases, you can create an eye-catching display that will bring life to your outdoor area.
Vases are available in a range of sizes and styles so you can find one that fits your needs perfectly. Consider using terracotta urns for larger displays or glass bottles for smaller arrangements. If you're looking for something more unique, consider wicker baskets or ceramic jugs; these will add texture and interest to your outside table. When selecting the plants and flowers for your display, choose ones with complementary colours or shapes; this will help create a cohesive look on the table.
Rustic Tablescape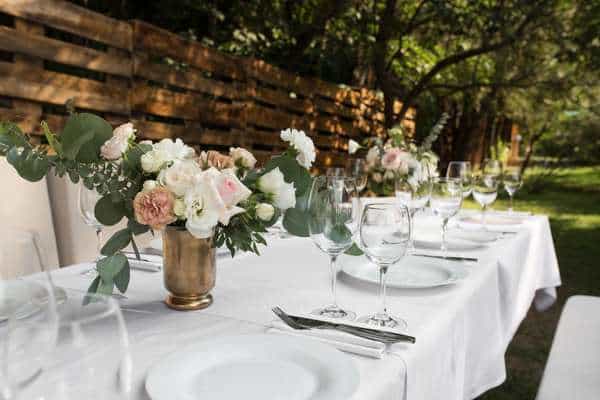 An outdoor table setting is a great way to create a rustic and inviting atmosphere in your backyard. This style of decorating often relies on the use of natural materials such as wood, stone, and greenery to bring an elegant touch to any occasion. Whether you're hosting dinner for two or a large party with family and friends, creating a rustic table scape can be done with ease. 
Design your tablescape with a colour scheme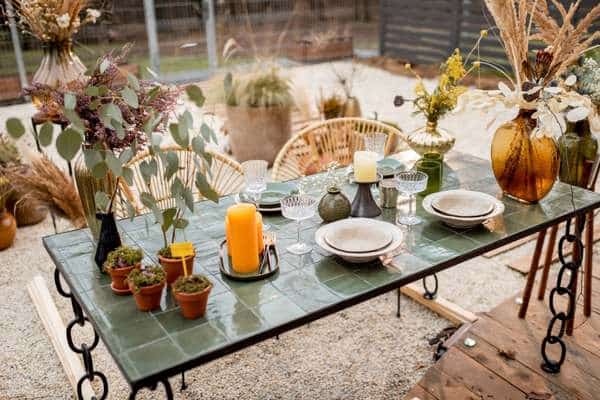 To start planning out your colour scheme, consider the natural elements surrounding the table. If you have lush greenery or blooming flowers nearby, use their colours as inspiration for the palette for your space. Then, choose a few complementary shades that will draw attention to all the pieces on the table. Make sure each hue has its own place in the tablescape – such as yellow accent plates or blue cloth napkins – so it doesn't appear too busy while still adding some vibrancy to the environment.
Clarify the context with a tablecloth statement
When selecting a tablecloth, consider the size of your outdoor dining area, as well as its shape and colour scheme. A patterned or coloured cloth can help break up a large space and inject personality into any gathering. For smaller spaces, solid-coloured linens are ideal for creating unity among furniture pieces. Consider adding texture with lace overlays or jacquard fabrics, which will add visual interest without overwhelming the eye.
Decorative Touches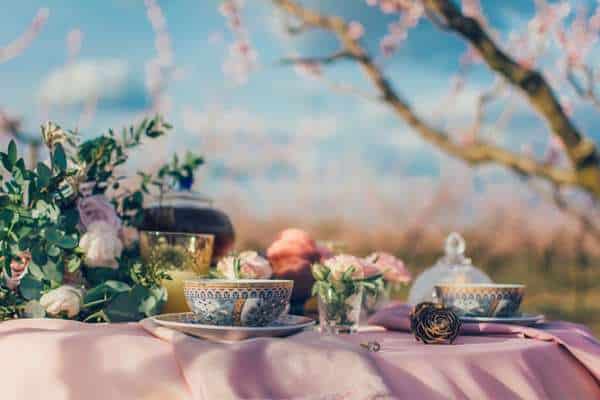 Creating a beautiful outdoor table does not have to be difficult or expensive. With the right decorative touches, you can transform any outdoor space into an inviting and comfortable atmosphere for your guests. Whether you're planning a casual gathering or an elaborate dinner party, these simple decorating ideas are sure to make your event look amazing.
Start by selecting a patterned tablecloth that will complement the existing colour palette in your outdoor space. Choose bright colours if you want to add some fun and excitement, or select more neutral tones if you prefer a more subdued look. Add coordinating placemats and napkins to complete the look. Don't forget about centrepieces!
Garden Party Theme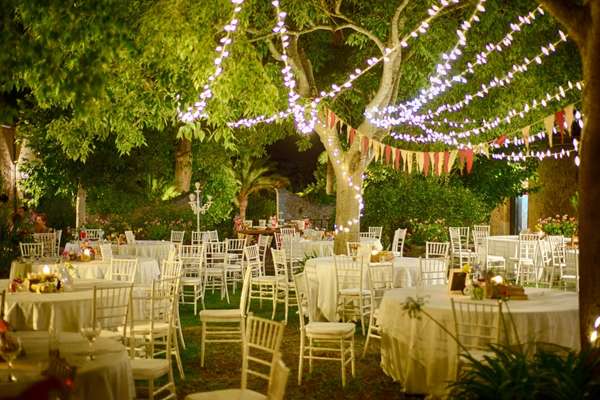 For an elegant atmosphere, use white linens with gold accents such as napkin rings and flatware. Add minimal decorations such as a few small potted plants or candles in glass containers along the centre of the table for a touch of sophistication. To create contrast between colours, pair navy blue dinner plates with natural tones like rattan chargers and wooden chairs for seating. Complete your outdoor table with colourful glasses or mason jars filled with lemonade or other drinks to enhance your garden party theme.
Add a live theatre
When planning an outdoor theatre setup, the first step is selecting the right seating arrangement. If you opt for a traditional approach with rows of chairs facing forward, it's important to ensure each row has enough legroom and armrests for comfort. Alternatively, you can go more casual with bean bag chairs or even picnic blankets laid out in front of the stage. Once seating has been decided on, consider adding tables and stools around the perimeter of the seating area so people have somewhere convenient to put their drinks and snacks during performances!
conclusion
Outdoor table settings can be as creative and unique as you wish. Whether you opt for a more traditional aesthetic or something a bit more bold, the possibilities are endless. With a few simple items, you can easily create beautiful and inviting spaces that will encourage your guests to stay awhile and relax. When creating your outside table, consider the atmosphere you want to create, the type of event you're hosting, and the colours that will bring it all together.