Outdoor furniture made from aluminum is a great choice for its durability and low maintenance. Cleaning aluminum outdoor furniture is an important part of regular upkeep in order to ensure it looks its best and continues to last. With the right supplies and a little bit of know-how, you can keep your aluminum outdoor furniture looking like new. This article will provide some tips on how to properly clean aluminum outdoor furniture so that you can maintain it for years to come. So let's get started!
Why Aluminum Outdoor Furniture?
Aluminum outdoor furniture is becoming increasingly popular for homeowners looking to spruce up their outdoor living space. Durable, lightweight, and low maintenance, furniture offers a stylish look that's easy to care for and maintain. Whether you're looking for an outdoor dining set or lounge chairs, aluminum can provide the perfect addition to any backyard oasis.
Furniture Cleaning Tips
Clean aluminum furniture is essential for preserving both its aesthetic appeal and structural integrity. Aluminum can be cleaned with minimal effort and a few simple supplies. Here are some tips to help you keep your furniture looking great:
Start by wiping down the surface of the aluminum using a soft cloth dampened with water. If there is any dirt or debris stuck on the surface, use a mild detergent solution to gently scrub it away. Once all of the dirt has been removed, rinse off the detergent with clean water and dry off your furniture with a soft towel or lint-free cloth. It's important to avoid using metal brushes or harsh abrasives when cleaning aluminum as they can easily scratch or damage its surface.
Prepare For Cleaning: Gather Supplies
Whether it's a small job or a big one, having the right supplies on hand is key to getting the job done quickly and efficiently. When it comes to cleaning furniture, this is especially important. Aluminum can easily scratch and dent if not properly prepped for cleaning and maintained during use. To ensure success, be sure to gather all of the necessary items before you begin.
Start by gathering together any tools you'll need such as rags, sponges, non-abrasive scrubbing pads, and a soft-bristled brush. You'll also need some mild detergent or soap along with regular white vinegar and a mild abrasive cleaner like baking soda or cream of tartar. Finally, you may want to add some protective wax or metal polish for additional protection against fingerprints and smudges.
Pre-cleaning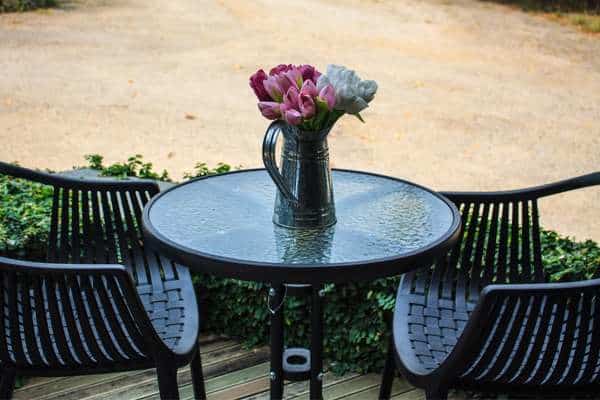 Pre-cleaning furniture is an important step in making sure your pieces stay looking their best for years to come. Properly pre-cleaning furniture can help prevent permanent discoloration, scratches, and other damage caused by dirt and grit buildup.
Before starting the regular cleaning process, it's important to remove any surface dirt or debris that may cause scratching during cleaning. This can be easily done with a cloth dampened with warm water, as well as using mild soap if necessary. After wiping down the aluminum piece, make sure all the soap residue is removed before beginning any further cleaning steps.
If you have stubborn dirt or grime build up on your product, you may need to use a specialized cleaner like Aluminum Brightener which will help get rid of those tough spots without causing scratches or blemishes.
Remove Loose Debris: Brush Away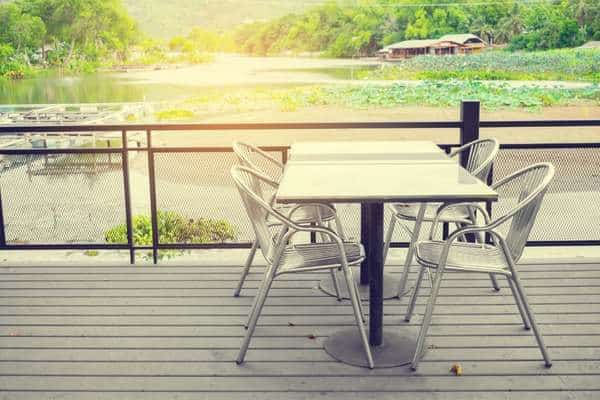 Decorating with furniture is a great way to add a touch of modern style and sophistication to any home. Whether it's for the living room, patio, or garden – furniture can look amazing. But in order to maintain its pristine condition, you need to remove loose debris before it accumulates and causes damage. The best way to do this is by brushing away dirt and dust from the surface of the household goods regularly. 
This simple yet effective cleaning technique will keep your furniture looking good as new! First, use a soft bristle brush or vacuum cleaner attachment to gently remove any dust particles or dirt that may have settled on the surface of the furniture. Make sure to take special care when brushing around joints, crevices, and edges – paying particular attention not to scratch or dent the material.
Stubborn Stain Removal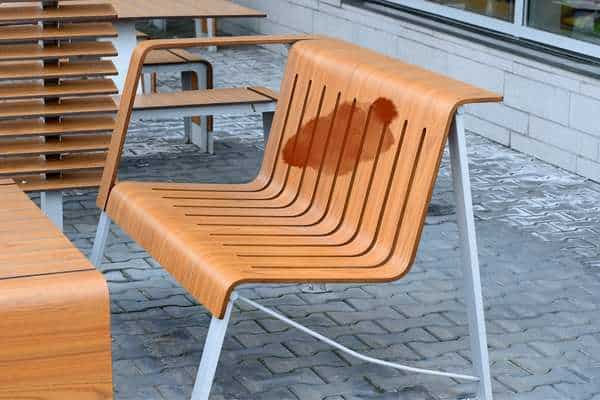 Removing stubborn stains from furniture can be a difficult task. Common stain culprits on furniture are food and drink spills, oils, dirt, and watermarks. To tackle these tough spots without damaging the surface of your furniture, you'll want to use the right combination of products and techniques.
Start by wiping down your furniture with a cloth dampened with warm water. This will remove any dust or dirt that has built up over time and help provide a fresh slate for working on the stubborn stains. Next, use an all-purpose cleaner or mild detergent to gently rub away any remaining grease or oil spots that may be present. If this doesn't work, you may need to reach for some tougher cleaners such as bleach-based solutions or even baking soda paste in order to break through the toughest of stains.
Clean With Vinegar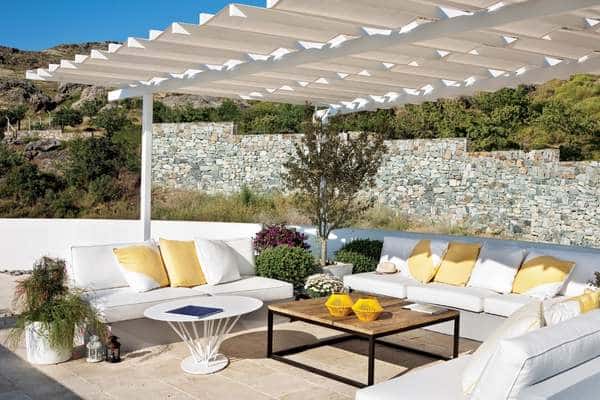 Vinegar is a great natural cleaning agent and can be used to clean furniture in your home. Not only is vinegar extremely effective, but it's cost-effective, safe for the environment, and easy to use. Cleaning outdoor household goods with vinegar will help keep them looking beautiful while removing dirt and grime that may have built up over time. 
To get started cleaning your chiffonier with vinegar, mix one part white distilled vinegar with two parts warm water in a spray bottle. Spray the solution onto the furniture, being sure to not saturate it as this could cause damage. Use a soft cloth or sponge to scrub away any dirt or debris that has accumulated on the surface of the furniture. Rinse off any remaining residue using cool water and allow the pieces to completely dry before using them again.
Clean With Soap And Water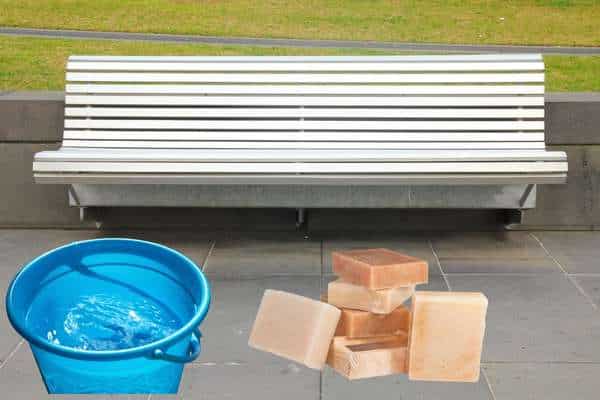 When it comes to cleaning aluminum furniture, using soap and water is the most effective way to get the job done. This method is preferred over other more abrasive products like steel wool or harsh chemicals because it won't damage the surface of your chiffonier. Soap and water are also easy to use and cost-effective, making them a popular choice for cleaning the furniture.
To start, you can mix warm water with gentle dish soap in equal parts. Dampen a cloth with the soapy solution and gently rub away any dirt or grime that may have collected on your chiffonier. Rinse off the soapy residue with clean water and dry off with another soft cloth before allowing your furniture to air dry completely. This simple yet effective cleaning process will leave your aluminum furniture looking as good as new!
Clean With Cleaner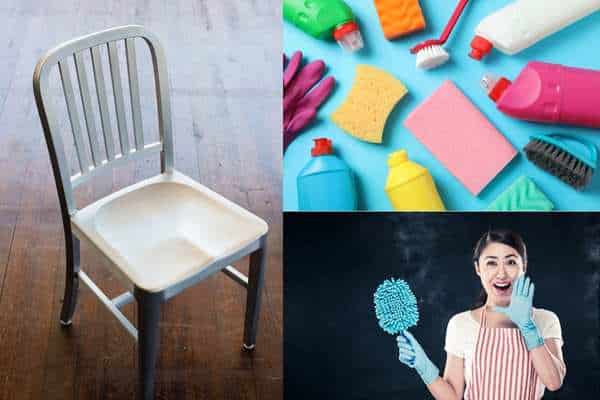 Vinegar Solution is an easy and affordable way to keep aluminum looking brand new. This natural solution is simple to make and can be used as a cleanser, polish, or rust remover for outdoor furniture.
Vinegar is an acid that easily breaks down dirt particles, making it the perfect cleaner for any type of furniture. The acidic nature of vinegar also helps neutralize the oxidation process which can lead to discoloration and corrosion in some metals, including aluminum. To create your own cleaning solution, mix equal parts of white vinegar with warm water in a bucket and use a soft cloth or sponge to gently scrub away dirt and grime from your pieces. After rinsing off the solution with fresh water, dry the surfaces with a clean cloth or towel until completely dry.
Shine And Protect: Apply Wax
Shine and protect your furniture with wax! Waxing your outdoor furniture is a great way to preserve its beauty, while also providing an extra layer of protection against potential scratches or damage. Not only will wax make your chiffonier look great, but it will also act as a barrier between the metal and the surrounding environment. This can help prevent corrosion and other issues related to oxidation that commonly affects aluminum items over time.
Applying wax is surprisingly easy, but it does require some preparation beforehand. Make sure your furniture is free of dirt and debris before you begin. Start by wiping down the metal with a cloth dampened in rubbing alcohol to remove any grease or oil residues that could interfere with the proper adhesion of the wax.
Clean With Detergent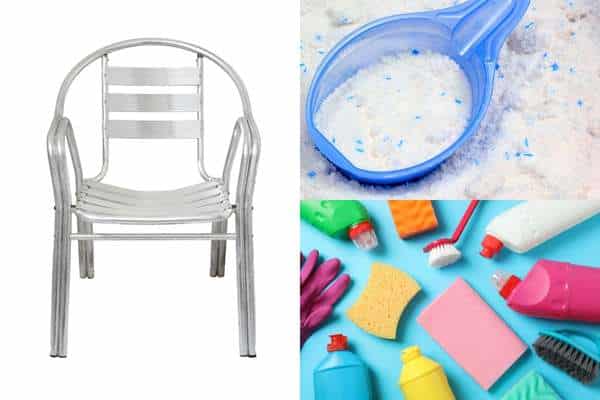 Cleaning aluminum furniture with detergent is an effective way to get it looking its best. Detergent works by lifting dirt and oil away from the surface of the metal, leaving it looking polished and new. It will also help to protect your household goods from corrosion caused by exposure to moisture and other elements.
For best results, start by removing any loose debris from the surface of the chattels using a damp cloth or soft brush. Once all dirt has been removed, make up a solution of detergent and warm water in a bucket and apply it liberally over the entire surface area of your furniture using a sponge or cloth.
Work in small circles, taking care not to scrub too hard as this could cause damage to your aluminum pieces. Rinse off the detergent solution thoroughly with clean water and dry with a lint-free cloth before allowing your furniture to air dry completely.
Using Natural Solutions
With the rise of environmental issues, many people are looking for natural solutions to their problems. It is a great way to make your home more sustainable and reduce your carbon footprint. This type is created from responsibly sourced materials that are built to last for years, making it an eco-friendly choice for any homeowner.
Aluminum is naturally lightweight yet strong and durable. It's also highly resistant to rust and corrosion, so you won't have to worry about replacing it every few years like other chattels made from wood or iron. Not only does the furniture look great in any room, but it can also be repurposed or upcycled when you no longer need it. Additionally, this type of furniture requires less maintenance than other materials because it doesn't need frequent cleaning or polishing as its wooden counterparts do.
Scrubbing And Washing
When it comes to cleaning aluminum furniture, scrubbing and washing can go a long way. Not only is furniture easy to clean, but it's also resistant to rust and corrosion. Scrubbing is the more vigorous method of cleaning and involves using a brush or cloth with some detergent to remove dirt buildup on the surface of your chattels. This will help keep your aluminum looking like new for years on end.
Washing is a gentler approach that uses mild soap mixed with water in a bucket or spray bottle. Wiping down the surface of your furniture with this solution helps remove stubborn grime without damaging its finish. Additionally, you can use an all-purpose cleaner for added shine and protection against weathering elements such as sun and rain.
Dry Before Use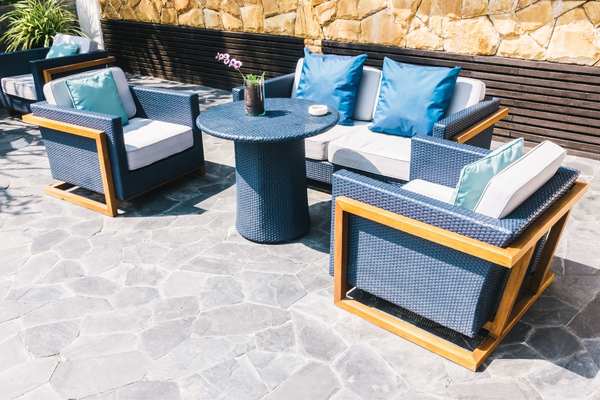 Aluminum furniture is a popular choice for outdoor spaces and patios as it is lightweight, durable, and aesthetically pleasing. However, before using your chattels outdoors or indoors, you must take the time to properly dry them first.
This step is important in order to prevent any rusting or corrosion of the aluminum surface. To ensure that your aluminum stays in top condition for many years to come, taking the time to dry it off after cleaning will help maintain its appearance. Begin by wiping down all surfaces of the furniture with a soft cloth or brush and a mild soap solution.
If you have an outdoor area where the furniture was exposed to rain or moisture, be sure to thoroughly rinse and dry off any standing water on the surface or in crevices with a dry towel.
Glossy Polishing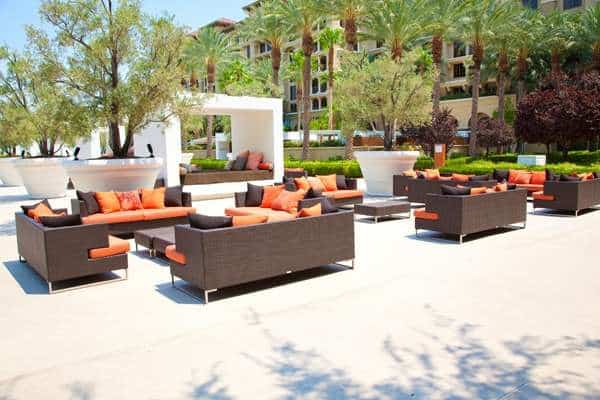 Aluminum has become increasingly popular due to its durability and aesthetic appeal. From outdoor patio sets to indoor seating areas, household goods can provide long-lasting beauty and charm. To keep these pieces looking their best, regular glossy polishing is necessary.
Glossy polishing an aluminum piece of chattel not only makes it look shiny and new again but also helps protect the metal from corrosion or damage caused by the elements. It's important to use a non-abrasive cloth for the best results; abrasive materials can scratch the surface of the aluminum. Depending on how often you use your furniture, you should aim to polish it every few months or so in order to maintain its shine and protect its integrity.
Protect Surfaces: Weatherproof Coating
Protecting outdoor surfaces from the elements is essential for preserving aluminum. To keep your investment in good condition, it's important to use a weatherproof coating on all exposed surfaces. Weatherproof coating provides an additional layer of protection against rain, snow, sun, and other damaging forces.
Weatherproof coatings are available in both sprays. Brush-on versions can be applied to outdoor furniture such as patio sets, benches, and chairs made from aluminum. Other materials like steel or wood. When applied correctly, a weatherproof coating can help keep your household goods looking like new year after year by protecting them. It from fading and discoloring due to UV rays or staining caused by bad weather conditions. The protective layer will also help prevent rust and corrosion on metal items. While providing extra protection against scratches and dents.
Precautionary Measures
Precautionary measures should be taken when using furniture to ensure the safety and longevity of the products. Furniture is a popular choice due to its lightweight, sturdy construction and contemporary design. However, due to their relatively delicate nature, it is important to take special care when handling these items.
To ensure that your chattels remain in good condition for as long as possible. You should always use protective covers or mats when placing items on top of them. This will help prevent scratches and dents from forming over time. Additionally, regular dusting with a soft cloth can help keep your products looking great for years to come. You may also want to consider applying sealants on the surface of your furniture. Which can provide an extra layer of protection against dirt, rain, and other elements.
Outdoor Furniture Maintenance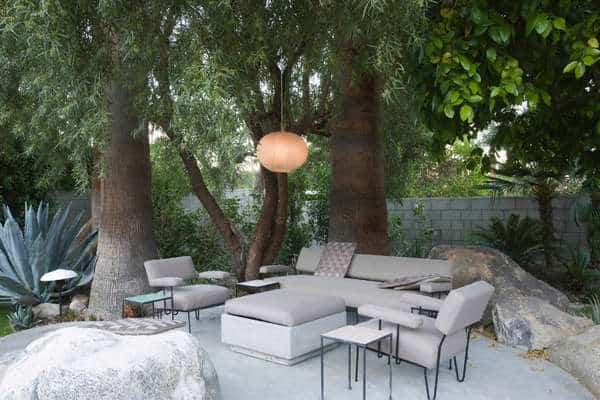 Outdoor furniture is a great way to spruce up any patio or backyard space. It creates a comfortable atmosphere for family and friends. If you have decided to go with household goods for your outdoor oasis. There are some tips to consider when it comes to maintenance. 
Aluminum is durable and strong, but it still needs regular upkeep in order to stay looking its best. To keep your aluminum looking like new. You should start by wiping down the frames with mild soap and water regularly. This will help remove dust and dirt buildup while also preventing corrosion from developing over time. Additionally, make sure that the frames are kept dry. After each cleaning moisture can lead to rusting or fading of the metal surface.
Conclusion
Aluminum outdoor furniture is a great choice for patio sets because of its durability and easy maintenance. Cleaning it can be done without harsh chemicals or scrubbing, which helps keep your family safe from toxic materials. To ensure your chattels retain their beauty. Use a mild soap and water solution to give it a good washing every few months. For tougher dirt and grime. The same solution but with more elbow grease to get rid of any tough stains.