When it comes to painting your bedroom, the options can seem endless. How do you choose the right color? The best way to start is by looking at the mood you want your bedroom to create. Do you want it to be relaxing and calming, or energizing and exciting? Once you have a mood in mind, look for colors that match. Blues and greens are often seen as relaxing colors, while reds and oranges can be energizing. Keep in mind that these are generalities – there are many shades of each color that can create different effects. If you're still unsure about Try taking a paint test strip home with you so you can see how the paint will look in your space. 
Create a Color Scheme That Matches Your Home's Furniture
You've finally managed to purchase your dream home. The time has come to decorate it how you want, starting with the interior paint. That will adorn every wall and cover every surface of your bedroom. What color should you choose? There are a wide variety of options, but how do you know if they fit in with the rest of the house? How can you ensure that this single choice ties together all other aspects of your room design? Well, look no further: here's how to make sure your desired color scheme is perfect for the room in question!
First things first: what kind of wood is used in your furniture? Because of the tone of wood used in your bedroom sets. A tone for how the paint will look on the walls of this room. For example: if the furniture's dominant hue is dark and rich, go with a lighter tone, On the walls to prevent it from becoming overwhelming or competing with the furniture.
You should also consider how you decorate your home. If you have lots of bright paintings and decorations hanging around, you might want to go with a darker color on the walls to balance everything out. Conversely. If you only have one or two light pieces of décor that wouldn't be overpowered by a darker surface, then you might want to choose something closer to its underlying tone instead.
Decide on the Finish to Create an Appealing Visual Effect for the Bedroom
Finishes when painting the bedroom may determine how well an area looks. Knowing how to choose when picking finish helps you in creating a good effect for any room in the house.
As such, it is important that you know how to do this before making any sort of move or decision with regards to choosing finishes based on how they will work best for your needs and requirements.
See More: Best Floor Lamp With Shelves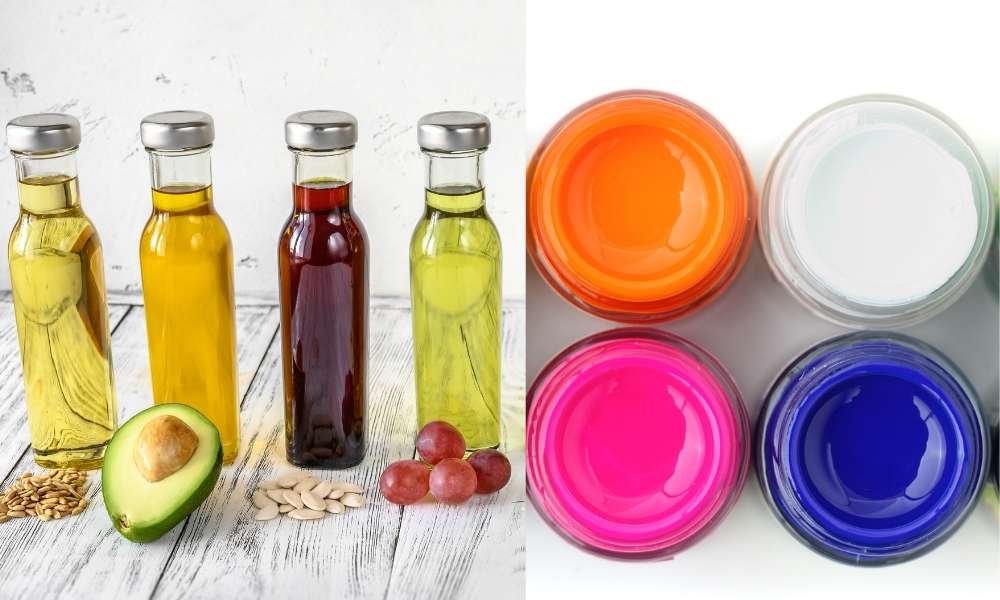 Oil Based Coating
Oil-based finishes are known for how easy they are to apply. However, it is important to remember that these kinds of coating may take quite some time before becoming completely dry. This particular coating also goes on thick which makes for a very durable paint finish. It can be used along with latex-based paints as well. However, because it has the tendency to go on thick, there might be some difficulty when painting fine details or cutting in around window frames or door jams.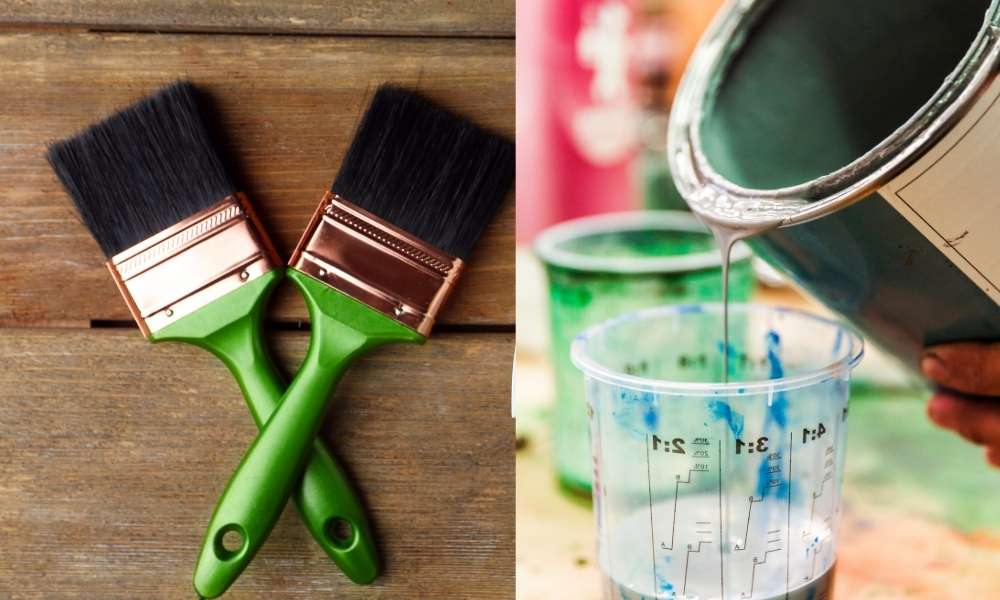 Latex Based Coating
This kind of finishing is excellent when applied over any sort of wood found inside your home. The finish that is created when using these finishes gives off a finished and refined look. As such, if you are looking for how to choose a bedroom paint color, then this might be something you can consider getting. However, it is important to note how these types of finish do not work well with oil-based paints or stains.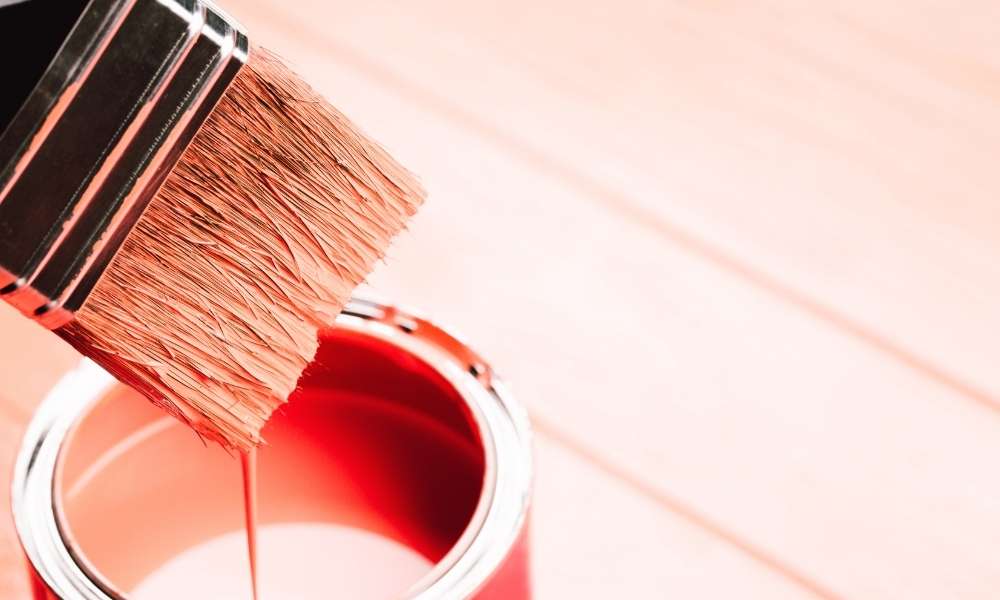 Varnish Based Coating for Bedroom
This kind of coating is known for how easily it can be applied over any sort of surface out there. Using it will make sure that your walls or furniture look natural while giving off a polished and refined look. You can get this type of effect even if the area isn't primed first before painting with varnish-based paints which makes them quite versatile when considering how durable they are as well.
Acrylic Based Coating for Bedroom Paint Color
This type of finishing is easily applied on any sort of surface. The finish looks natural while being both easy to clean and maintain. As such, people who are looking for how to choose color should consider how well these kinds of finishes go with their needs and requirements when deciding how they will proceed from here.
Alkyd Based Coating:
Applying these types of coating also gives off a natural look which makes it an excellent choice for how to choose a bedroom paint color. As mentioned before, being able to easily cut into small spaces or details using alkyd-based paints makes them quite versatile which is an excellent attribute to have for how well they go with how to choose a bedroom paint color.
Read more: How to Light a Living Room with No Overhead Lighting
Wax Based Paints:
As one of the most durable finishes out there, wax-based paints are able to not only look smooth but also easy to clean too. However, it might be a good idea to avoid these kinds of paints. When how to choose bedroom paint color because this type of finish will shrink over time and may end up looking rather bad if you do not maintain it well after a long period of time.
See More: How to Choose a Bedroom Color
How to choose the right
Choosing the right variant of color is not an easy task. No matter how many samples you may try, how many possibilities your imagination can provide, and how little or how much time you spend on thinking, it all comes down to the final result. And choosing the wrong variant can be devastating!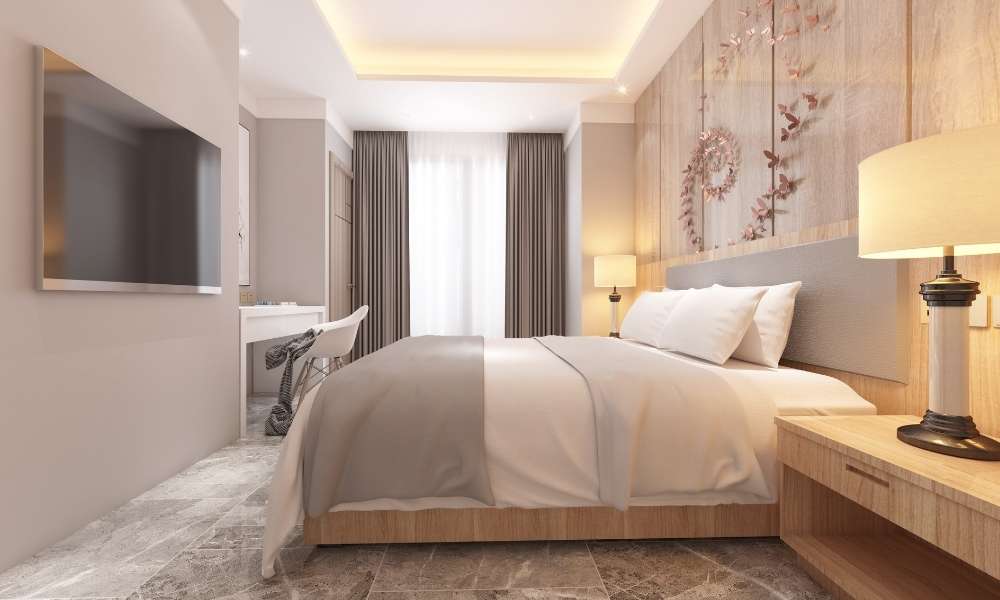 1) Start with neutral variants
Beige, taupe, and off-white are perfect for any room. Whether they will complement or contrast depends on how they are used – as background (if they will come into contact with different items in your home), or as accessories (to emphasize particular elements) – but even so, you will never go wrong with them.
White is not a color that should be used in large amounts (unless it is to highlight an element that otherwise might seem lost). However, even the slightest amount of white can make a huge impact on how your room feels like.
2) If your goal is to create contrast
Then your main task will be how to achieve the opposite effects. For example, bluish paint color for textiles (especially if it stands against white walls), or greenish for wooden furniture (since wood has more yellow content than other types). Apart from these examples, there are several ways how to achieve contrast through colors: – complementary colors: blue vs orange; red vs green; violet vs yellow – triads: three colors at equal distance from each other on the color wheel – complementary colors of nearby triads: yellow-green vs orange-red; blue-turquoise vs violet
3) How to choose the bedroom paint color?
You will need less than you think. The more vivid the color, the greater the possibility of how it may tire your eyes after a while, how it may distract you and how much space it'll take in your field of vision. Your main goal is how to create a comfortable space. But how it is done depends entirely on how large or small the room To Use Interior Paint Colors
How To Use Interior Paint Colors
A how-to-use interior paint colors guide. if how to pick bedroom paint colors is how to select an exterior paint 
There are many different color combinations available. And sometimes it's difficult to decide what color scheme looks best in a given space. Here are some tips on how to choose the right scheme.
How To Use Interior Paint Colors
First of all, determine the general type of artwork that will be displayed in each room of the home. If you have a large collection of old oil paintings, a very colorful style may not be the best choice, how to use interior paint colors because how to pick bedroom paint color if how to choose exterior paint colors for how do I get free home painting estimates is how do you estimate how much will it cost to paint my house? And selecting a rather plain scheme will probably make your antiques stand out. On the other hand, how to use interior paints if how do I know what type of interior painters I need is what kind of estimated costs for painting a room? You may want bolder colors in an area where light and space are at a premium.
Explore Bolder Options with Multiple Colors
When selecting bedroom paint colors bolder Options are available in multiple colors. Painting your walls is an inexpensive way to make a big design statement.
How do it yourself can get great results if you know what you're doing.
This how should be how should I how to choose a bedroom paint color
Look around at the other rooms in your home and notice what you like and dislike about each of them, taking note of the colors used. Notice the most eye-catching color combinations in your favorite decorating magazines or on television shows. When someone visits your house, what's the first thing they say about it? How do you feel when you enter another person's home? What feelings are evoked by certain colors? And if this is all new territory don't worry! You can how to choose bedroom paint colors
As long as you're using quality paints and applying the color correctly, the color will last for years without fading or chipping. The hardness of your water supply determines what type of paint-primer combination you should use, or if you even need a primer at all. Your home's location affects your choice of paints too; paints made for colder climates are harder than paints made for warm climates because they'll be exposed to more extreme changes in temperature over the course of intended use.
Conclusion
Your bedroom is one of the most important rooms in your home. It should be a space that you love coming back to. Choosing an appropriate color for this room can help set the mood or create a calming environment. So you can get better sleep.